Description
The borehole source SHock is utilized to generate pressure (P-) and shear waves of horizontal polarization (SH-waves) in wells while performing the operations through crosshole seismic testing (CST) and reverse vertical seismic profiling (RVSP) methods. The operation of the SHock source is provided by the Jack energy sources.
The source generates a shear wave through an asymmetric blow delivered into wall of the well. A rigid pneumo-electric line makes it easy to rotate the source in the borehole, providing generation of "right" and "left" blows. The SHock source allows excitation of a seismic signal in both water-filled and dry wells, which is not feasible for borehole sparkers.
SHock is supplied on a reel equipped with a high-voltage slip ring. Thus, one does not need to disconnect the energy source during operations of winding / unwinding the cable.
The standard set consists of:
SHock source
Pneumo-electric line
Reel with high-voltage slip ring
Wire to connect a reel and a energy source
An example of CRP seismograms registered by the 3C seismic cable while exciting the signal with the SHock source in an adjacent well.
Picture above shows two CRP seismograms, picture below — P- and S- waves spectra. The source operation was provided by energy source Jack.
Examples of CRP seismograms for non-oriented X- and Y- components with superimposition of right and left blows.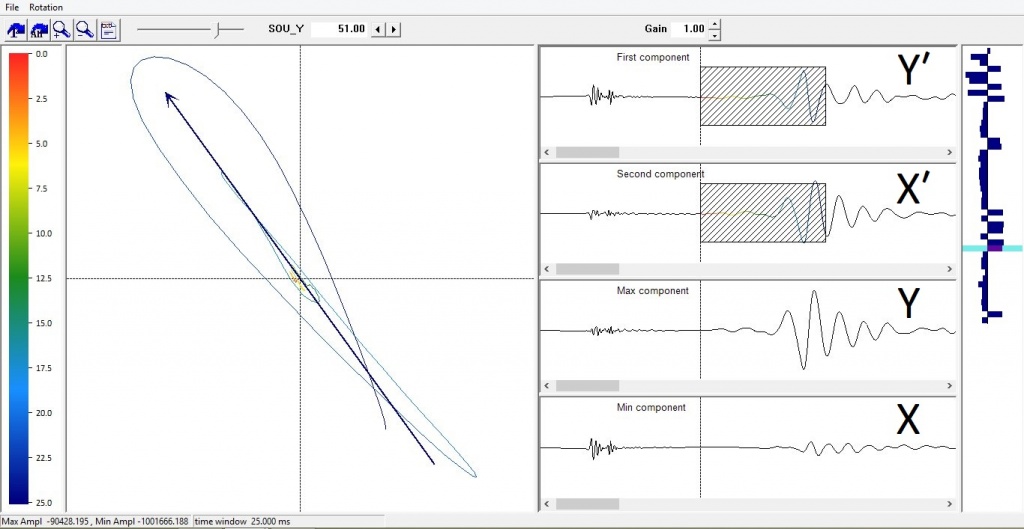 An illustration of the process of orienting the seismic record in XY plane in RadExPro Plus program.
Visualization of the "sonde path" is shown on the left. Right part illustrates seismic records for non-oriented (X' and Y') and oriented (X and Y) components.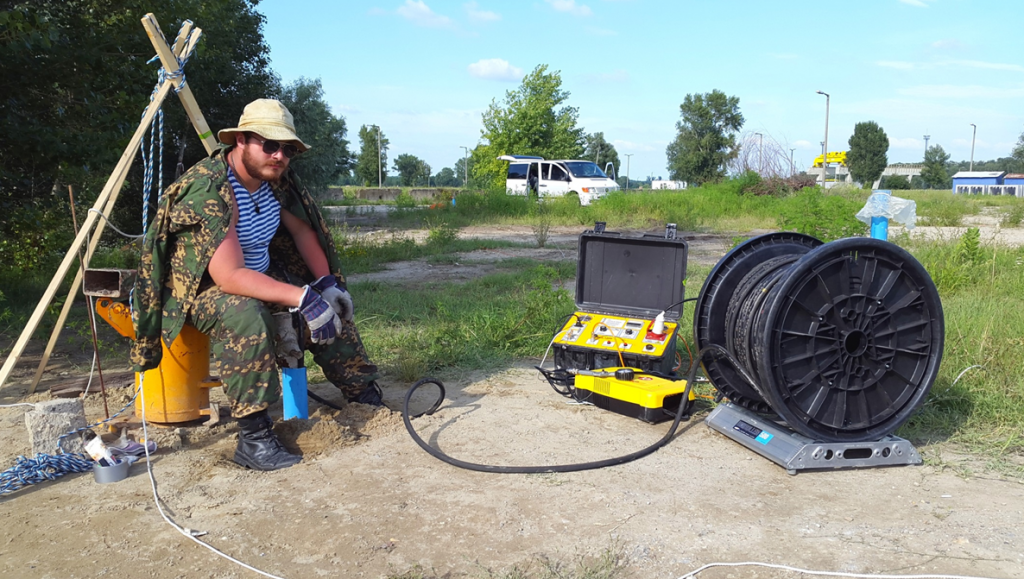 Specification
| | |
| --- | --- |
| Operating voltage | up to 6000 V |
| Operating energy | up to 1500 J |
| Well diameters | 70 – 140 mm |
| Diameter | 65 mm |
| Length | 970 mm |
| Dimensions on a reel | 570 × 550 × 650 mm |
| Weight with a reel and a 130 m pneumo-electric line | 93 kg |
Additional Equipment
Energy Source Jack

Are designed to provide functioning of sparkers of different types
Geophone array GStreamer

Hydrophone array WellStreamer

Seismograph TELSS-VSP for borehole surveying

Processing Software
RadExPro

ZondST2d — 2D seismotomography interpretation (refracted waves)

ZondST3d — 3D seismotomography interpretation (refracted waves)