Description
GEOSv is the unique borehole source specifically designed for crosshole seismic testing (CST). Provided with a fast-locking pneumatic system, it allows to generate polarized vertical shear waves. This device is fully in accordance with international standard ASTM D7400-08. The operation of the GEOSv source is provided by the Jack energy sources.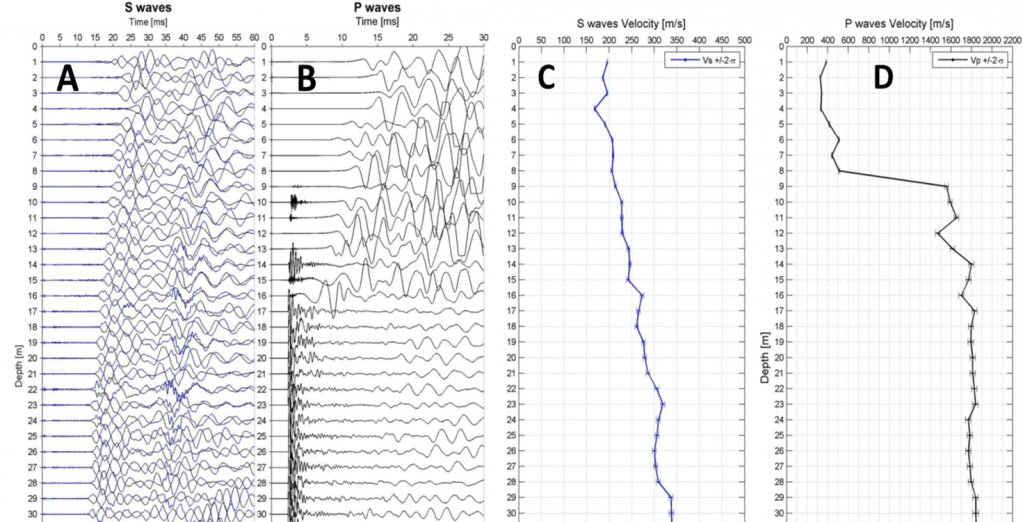 Parallel crosshole seismic testing field data obtained with borehole source GEOSv (distance between wells — 4 m).
From left to right: CST on S-wave data (Z-component); CST on P-wave data (H-component); The vertical velocity distribution of the S- and P- waves in the interwell space, respectively.
Specification
System
Diameter
65 mm
Length
654 mm
Waterproof
200 m
Max air pressure
25 bar
Air pipe connection
6 mm
Max piston range
21.5 mm
Connector
High voltage 7 pins
Mechanical features
Case
Aluminium
Clamping pistons
2
Eleactronic features
Power supply
Max 3000V 300J
Frequency bandwidth
100-600 Hz
Additional Equipment
Energy sources Jack

Are designed to provide functioning of sparkers of different types
Geophone array GStreamer

Hydrophone array WellStreamer

Seismograph TELSS-VSP for borehole surveying

Processing Software
RadExPro

ZondST2d — 2D seismotomography interpretation (refracted waves)

ZondST3d — 3D seismotomography interpretation (refracted waves)